AVX PRO-CLEAN
Made in Germany
Volume: 37ml, 500ml
Instructions on application of AVX Pro-Clean water-based glue:-
AVX Pro-Clean 水溶胶水使用法:-
Cut your rubber first / 先剪胶皮。

Apply thin layer of glue on both blade surface and sponge surface.
在球板及海绵表面上塗上薄层胶水。
When milky-white water glue starts turning transparent ,put your rubber
onto the blade surface starting from brand line and press lightly downwards.
当浮白色的胶水开始转透明时,将胶皮商标上端贴着球板往下轻压。
Use a roller to press and squeeze out the excess glue if any. Water-based glue can easily be wiped away by using wet cloth.
可用圆棒物轻压挤出可能塗用过多的胶水。
水溶胶水可用湿布轻易抹净。
Press with weight or use racket jacket on newly glued blade for a few minutes.
用重物压或扣上拍夹数分钟使胶皮黏牢。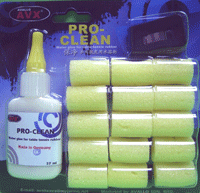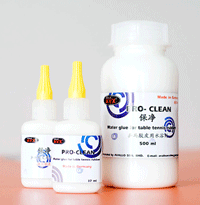 Volume: 30ml Volume: 37ml Volume: 500ml